Online Social & Interactive Mosaics
As the web evolves and grows to be more interactive, social, and engaging, we are continuing to develop our state-of-the-art online mosaic platform. This social platform provides our clients with a way to engage online visitors in a unique photo mosaic experience. This coupled with our innovative mosaic software, this solution truly has no boundaries. Furthermore, we have found that this is a great marketing/promotional "unity" concept that has a long lasting impression. Our online interactive mosaics have won many "most viral" awards which makes this concept only that much more exciting! We continue drive this technology with social (ie. full Facebook, Instagram, and Twitter integration), sharing, and interactivity. Our goal is to completely engage the visitor on both a personal and community level that will continue to drive participation and excitement.
Our mosaic design team can offer a full turn key solution, however our involvement can vary based on your needs. We can get creative as you want, or allow you to layout your specific needs and requirements for us to follow. Our software and web team along with our graphics designers will work with you to ensure that the online experience meets and exceeds your expectations.
The Social & Interactive Mosaic Platform 5.0
: Upload a photo, explore, search, click & learn, and more!
Update: Platform 5.0 now with a dedicated mobile interface for iPhone and Andriod!
Facebook Album

Facebook Profile

Facebook Wall Post

Twitter Hashtag

Instagram Hashtag

PC or Mac

MMS (text)

Email

Onsite Photographer

Photo Booth

Mobile iOS/Android
Featured Client Mosaic Activations
Featured Fundraising Activations
Featured Platform 5 Mosaics and Additional Documentation
Additional Documentation:
Pricing, Designer Guides, Templates, and APIs available upon request.
Real-time Animated & Dynamic Interactive Mosaics
Picture Mosaics also offers streaming real-time mosaics in a more animated and dynamic format. While still being very viable for online use, these mosaics are targeted more for conferences, conventions, parties, and high traffic areas. These unique real-time building mosaics are the perfect way to get everyone involved and work great on large HD LCD/Plasma TVs ranging from 50 inches to 100+ feet in size. Check out a few of our live event examples located on our
trade show & events page
, or select any of the three experiences below for real time demonstrations.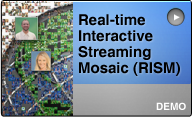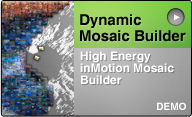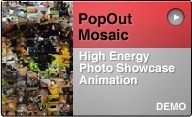 Send an email:
projects(at)picturemosaics(dot)com
toll free: 866-99-MOSAIC (866-996-6724)
business hours: 9:00am to 5:30pm M-F EST

In addition to discussing your project over the phone or in person, we recommended sending us an email with your project specification, ideas, or concepts. Having these requirements in writing can help reduce confusion on both sides. We look forward to helping you create your unique mosaic concept.